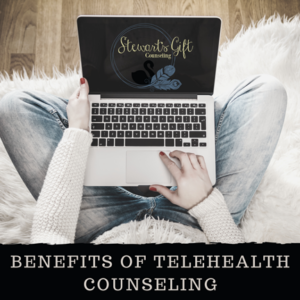 Welcome to the year 2020, where traditional life is out, and change is forced.
You are not alone in your anxiety, depression, or mental health needs.
– 1 in 5 American adults have a mental illness
– 10.3% of Americans have serious suicidal thoughts in 2020, a 450,000 person increase since 2019.
– 70% of Americans report experiencing unmanageable stress in the year 2020
– In 2020, more than one-third of Americans are displaying clinical symptoms of anxiety, depression, or both.
– Since 2018-2020, there has been a 50% increase in those experiencing chronic-ongoing anxiety
– In 2020 there has been a 1,000% increase in calls to crisis hotlines
– Collective traumas, such as those experienced during the global pandemic and social justice movements, can cause long-lasting effects upwards of one decade, or longer, if mental health services are not sought in the early stages.
In March of 2020, per the CDC recommendations to help flatten the curve of COVID-19, I moved my in-person therapy practice to be fully telehealth. It is natural for a shift from tradition and familiarity to cause you to pause and question the efficacy of online counseling services. I want to reassure you of the researched benefits of telehealth counseling. I think you may be surprised by the overly positive outcomes.
The Upside of Telehealth Counseling Services:
The general concern by clients is that online counseling is less effective than traditional in-person services. Telehealth is not new; it has been around and well researched for many years. Research is conclusive that telehealth counseling is at least as effective as in-person counseling, and in some cases, research concludes telehealth is more effective than in-person counseling! A John Hopkins four-year study reports a 25% decrease in hospitalizations for veterans with anxiety, depression, and PTSD directly contributable to their online counseling services, a slightly higher percentage than those who sought in-person counseling services. A university study showed depressed clients who sought counseling had the following outcomes:
Telehealth:
53% experienced relief from depression.
After a three-month follow-up, 57% showed no depressive symptoms.
In-person:
50% experienced relief from depression.
After a three-month follow-up, 42% showed no depressive symptoms.
Additional benefits of telehealth counseling services:
Convenience. If you have a computer, phone, or mobile device, you can access counseling services from home, work, a park, or anywhere you feel is most convenient for you. With no drive-time to calculate, many find it easier to fit into their busy schedules.
Consistency and Goal Accomplishment. Clients and therapists are 60-70% more likely to keep the counseling appointment, significantly reducing cancellations and no-shows! Consistency in counseling is the key to build momentum and find the progress you want to meet your goals. You can show up in your comfy clothes, messy hair, no make-up, feeling under the weather, or in the snow, rain, and hail!
Better Access to mental health care. Telehealth is beneficial for those who live in small towns with limited options, those who are homebound, those with phobias regarding public places, or those seeking specialists for their specific needs. Typically, you are limited to the therapists in your town, but with telehealth, your options for healthcare expand statewide! Usually, I am limited to the North Dallas area, about a fifteen-mile radius for clients. With telehealth, I have enjoyed counseling people from across the great state of Texas.
Increased Confidentiality. No matter how big or small your hometown, there is always a risk of walking into the waiting room and finding someone you know. For some, this can be uncomfortable. For others who seek counseling secretly, this can cause severe anxiety. With telehealth, you have 100% confidentiality due to eliminated waiting rooms and contact with anyone other than your therapist.
I want to affirm the research findings by sharing my clients' testimony. These clients were also skeptical and hesitant about transferring to online, but they have genuinely thrived! Many clients have even graduated counseling services amid a pandemic and social crisis. I hope you find the information below encouraging as telehealth is the new effective way of doing counseling!
I look forward to meeting you soon to help you thrive!
---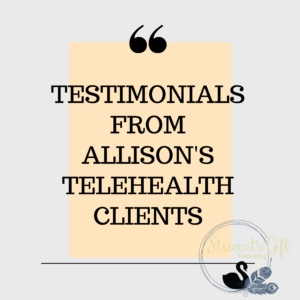 ---

"My experience with Telehealth has been nothing short of amazing! It's convenient, safe, and comfortable! Especially in these uncertain times, it's been such an amazing tool to continue to grow and work on myself. Allison takes the time to make you feel cared for, important, and she's very personable even while communicating through technology. Allison takes the time to explain things in depth and she is very knowledgeable. She explains not just the feelings or thoughts themselves but the science behind these behaviors or feelings."

---
"Having teletherapy available has helped me in a tremendous way. I have been able to continue my sessions, and work through my goals and different situations the same as always. Because my therapist is a professional, she is able to provide therapy for me just the same as in person. And because of that, I am very thankful and grateful to have this option to continue my counseling. We haven't skipped a beat in the healing process!"
"The thought of transferring from face-to-face therapy to telehealth sounded intimidating and distant. Thankfully, I have found neither to be true. On the day of our scheduled visit, Allison will send me, via email, an invitation and password to join her in our session. Depending on my circumstances, I might travel to a nearby park and connect with my phone, or I will stay home and connect with my laptop."

Meeting virtually has come with the following unexpected benefits:

Little to no travel time to appointments

Enjoying a feeling of comfort that comes from being in my own surroundings, which has extended to an increase in open communication and transparent dialog

Allowing a continuance of our sessions, in a safe way, that has allowed me to journey from being in survival mode to thriving in life (even during Covid)"

"As someone who was scared to start therapy, my only regret is not starting it sooner. Therapy, whether through teletherapy or face-to-face, is hands-down the greatest gift I have given to myself and my loved ones."
"I came across Allison Rose and a post on instagram that talked about holding on to feelings eventually catches up with you. That post spoke to me because my feelings were all over the place. I talked to her through tele-health for my first consultation around the end of March. She recommended that I do EMDR. I thought we were going to be doing tele-health for couple of months and here we are Mid-July 2020 still doing tele-health and EMDR. I was very skeptical of EMDR. I was more skeptical of EMDR through Tele-health. I have to say, both have worked so much for me. EMDR has helped me control my fears of flying and heights. I control my emotions a lot better nowadays and now I can put my feelings into words. I literally have felt weight come off of me as we process memories through EMDR. Allison listens and has a tremendous amount of empathy. She is the first counselor I have been able to open up to without inhibitions AND I HAVE NEVER SEEN HER IN PERSON. I am so thankful for Allison. I have rambled on and on in sessions and she just listens. Thank you Allison!"
"I have been seeing Allison for over a year now. I was apprehensive about moving from in-office visits to virtual visits, as her office has become a comfortable and safe space for me, but from our first Zoom call it was just like Allison was sitting in the room with me. I received the same level of care, validation, and wisdom I appreciate so much from her. She continues to communicate quickly via email and is always flexible with scheduling. Whatever you're going through right now, Allison will be there for you. She will listen without judgment. She will give you the tools and guidance you need to gain confidence and strength, just as she did for me."
Take advantage of the telehealth benefits, accomplish your goals for better mental health, and thrive! Fill out the contact form below!
"Sometimes the bravest and most important thing you can do is just show up." – Brene Brown
---