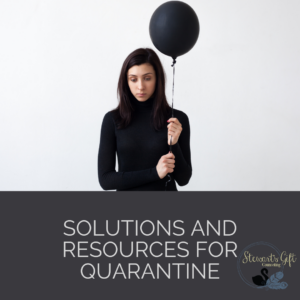 SOLUTIONS AND RESOURCES FOR QUARANTINE
As the entire world shifts, shuts down, and isolates, the mind wants to run wild. With the flu season and the COVID-19 Coronavirus, forcing people to live an isolated life in their home while the world is rapidly changing can cause both rational and irrational fears. If we are not intentional in maintaining calm and control in our situations, mental health is at risk. This blog is meant to offer solutions and resources that are family-friendly, doable, and trauma-minded.
You are not alone. Choose to not be alone.
We live in a country that may have infighting, but when push comes to shove, we are the quickest nation in the world to love and help our neighbor! We are a nation made of people who are fighters for what we believe in. This means we are a nation made up of STRONG individuals who are fully capable of adapting and overcoming unthinkable situations. So, as the saying goes, history will repeat itself with this season!  Reach out to a therapist for anxiety tips, depression help, or to process the fears you're experiencing. Sometimes we need someone to talk to.
If you are in a crisis or feeling suicidal, click here for crisis resources.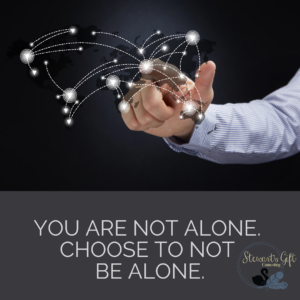 If you are experiencing anxiety or catastrophic thoughts regarding your future, here are some suggestions:
Limit exposure to the news: Turn off the news stations throughout the day. It is essential to stay informed, so here are some options: only watch the news one time in the morning to get the latest updates. Watching before bed at night can disrupt sleep. Have a trusted friend or family member update you on what you need to know about changes that may affect you.
Turn off notifications on apps that may alert you to news updates
Unfollow social media accounts that cause you anxiety

Positive Thinking:

Talk with friends or family about the positive happenings:
EXAMPLES: spending time together, a once-in-a-lifetime opportunity to rest, people helping people, a slower-paced lifestyle, a chance to revamp your own lifestyle

Search Google or social media for good stories that are happening
Follow lighthearted accounts on social media: comedians, animals, art, nature, etc.
With gyms, restaurants, sporting events, and much more closing down, many people are losing their go-to options for socialization and self-care. Think digital. Think connection!
Exercise apps are a great way to stay in shape and to stay connected. You can start a Facebook group with friends or family to post your workout of the day. You can use software like Zoom to set up with friends to workout "together."
Food might be a significant change for your lifestyle if you were used to eating out or delivery. The shift to meal planning, grocery shopping, and cooking can be overwhelming! Here are some simple apps and options for you!
Get Outdoors. It is crucial to get some sunshine and fresh air. Isolating from crowds does not mean you have to sit inside all day. Sit on the front or back porch listening to music, reading a good book, let the kids play in the yard (join them in play!), go for a walk, or bike ride.
Being quarantined with family for weeks can pose challenges to even the most functional of families. Here are some suggestions for best practices for families.
Pace yourselves! This is a marathon, not a sprint! Find a healthy balance of play-rest-togetherness-alone time.
A variety of activities will keep time moving! EXAMPLES: indoor games, outdoor games, science experiments, reading, crafts, movies…
Space and Boundaries are an essential part of pacing yourself. It is normal to need time alone. This looks different for everyone:

completely isolate if you can: watch tv, read a book, take a nap, go for a walk, etc.
If you have children take time to yourself when they take a nap. Put a movie on for them while you get some "alone time" away from entertaining children. Use a Pack-n-Play to keep them contained to give yourself a break for a brief time.
If you are in an abusive relationship or a toxic relationship, please contact a therapist to create the best plan of action for your situation. Some possibilities are to see if you can stay at a friend or family member's home for a break. You can also TEXT 741741 for crisis counseling help.

Separation-Connection is easier than ever before. Utilize technology as much as possible to be more connected from people you are apart from. Please limit the number of texts; instead, use Facetime, send pictures or videos, and call to hear their voice.
The word isolation implies loneliness. I want to challenge you to redefine this term:
ISOLATION IS rest, connection, healing, downtime, opportunity. This is a unique opportunity to make changes in your life and family that you never have time to do. Please make the most of this time, we're all in this together! I would love to have comments on this blog, sharing your favorite resources!