This means that anyone who belongs to Christ has become a new person. The old life is gone; a new life has begun! 2 Corinthians 5:17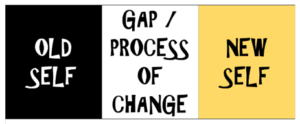 This is a scripture that has been pulling at my heart lately. Time and time again we are attacked that "there is no way you have changed." Or "be careful, you may slide back into your old ways." Or the best lie yet, "you could never change, so why even try?!" But what does it mean to truly leave your old self behind and to have a new life? Is it possible to go back to the old self once we have crossed the gap over to the new self? What is the result of this process both going forwards and going backwards?
As a Christian therapist it is my prayer and goal that my clients are able to make this process of change with Christ as their gap and ability for their change.
I can do all things through Christ who strengthens me. Philippians 4:13 

But those who trust in the LORD will find new strength. They will

soar high on wings like eagles. They will run and not grow weary.

They will walk and not faint. Isaiah 40:31 
Most people are aware that there is a need for change, but the very idea of crossing the gap and committing to the process of change is intimidating, terrifying, overwhelming, confusing, impossible feeling, and the list of negative emotions could probably fill in a dozen reasons why change is avoided. Is it worth the effort to change? How do I know when to change? These are important questions to ask yourself!
We change our behavior when the pain of staying the same becomes

 greater than the pain of changing. Consequences give us the

pain that motivates us to change. – Dr. Henry Cloud
 When you are feeling stuck in life…or feeling pain in life… and this pain and stuckness is interfering with your ability to function in your daily life, it is time to begin the contemplation stage of change. This is when you begin thinking to yourself, "hmmm, something is not right in my life." You identify the upsetting variable; you begin contemplating if or how to change.
"But Jesus looked at them and said to them, 'With men this is

impossible, but with God all things are possible." Matthew 19:26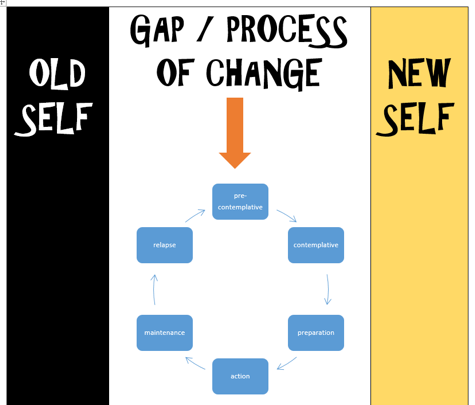 As you can see, the process of change is long. The process requires a lot of intentional effort. It is easy to become weary and discouraged while crossing the gap to the new self. This is why support systems are critical to the success of change. And even more important is continual prayer. Praying for yourself, asking others to pray for you, accepting God's grace when you relapse in the process (you will relapse, but you will learn from it and move forward toward your goal of the new self), and binding the enemy to the old self that you've left behind. Christ is an essential part to transforming your life.
"Therefore we do not lose heart. Even

though our outward man is perishing, yet the inward man is

being renewed day by day." 2 Corinthians 4:16

"So let's not get tired of doing what is good. At just the right time we

will reap a harvest of blessing if we don't give up." Galatians 6:9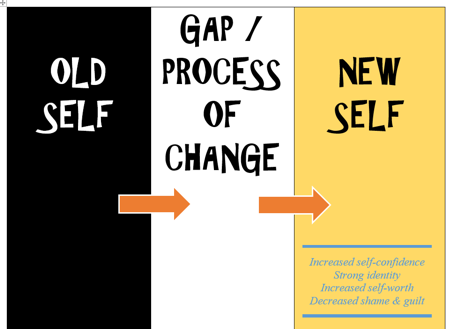 What is the reward at the end of the long and tiresome process? A new you! A new self-confidence and self-worth. The shame and guilt of the old self… well, it got left somewhere in the gap (good riddance)! You know you have arrived to the new self by the fruits of your labors! Your identity will be stronger than ever giving you confidence in your ability to make great decisions, to be successful and to achieve your goals. You will discover higher morals, values, and standards in life along the process of change. You will discover just how strong you really are. You will experience healing and hope. You will discover plans and purposes that are unique to you! The rewards for crossing the gap are truly limitless!
You will enjoy the fruit of your labor.

How joyful and prosperous you will be! Psalm 128:2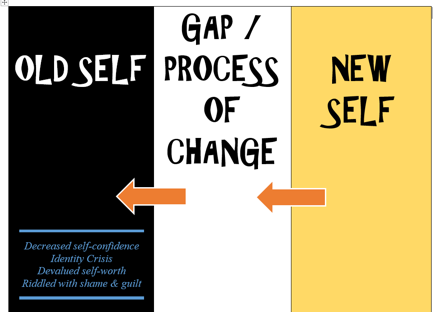 Reflecting back onto the quote by Dr. Henry Cloud, the opposite is true too: the consequences of the old self is enough pain to motivate us to not change in reverse. MIND THE GAP! Bishop TD Jakes once told a story about talking with an old friend about their mischievous past. TD Jakes stated that he realized he could remember the past but that there was not enough of the past in his new self to create a lifestyle that resembled the old self! This is because in order to leave the new self and reenter into the old self you would have to go back through the process of change and literally undo your hard work! Listen, we cannot forget the past. In one sense it is a permanent part of us; this is a good thing because it aids as a warning that we are dipping our toe into the gap. Our conscience screams WOAH! DON'T GO THERE! WRONG DIRECTION! MIND THE GAP! This alert happens because the process of change is truly transformational, meaning to go back to the old self would be a process of undoing. What is the result of ignoring the warning signs and proceeding to undo the process of change to revert back to the old self? It is complete devastation, depression, anxiety, decreased self-confidence, identity crisis, lowered morals and values, devalued self-worth, you'll be riddled with shame and guilt, and the ability to reach the new self… well, it gets harder to do the second time around because of the crushing blow you mentally and emotionally take during the undoing of the gap.
If the new life is created with Christ carrying you and protecting you, it has to be assumed that, although God never leaves you or forsakes you, that the enemy has the upper hand in your life through the choice to cross back over the gap. The undoing of the new life opens the door for the adversary to enter in to steal, kill, and destroy. BE MINDFUL OF THE GAP!
Contemplating change?
Identify what needs to be changed

Contact proper help to guide you during the change. Counselors are trained to help you cross the gap

Find support groups, inform safe people of your change for accountability in your everyday life (counselors aren't around you every day!)

Pray without ceasing

Don't let relapse or backslides discourage you, it is part of the normal change process

Celebrate your progress

MIND THE GAP! Pay attention to the warning signs that you are dipping your toes in the gap!
Therefore, since we are surrounded by such a huge crowd of

witnesses to the life of faith, let us strip off every weight that slows us down,

especially the sin that so easily trips us up. And let us run with

 endurance the race God has set before us. – Hebrews 12:1
"My Story" – Big Daddy Weave
---