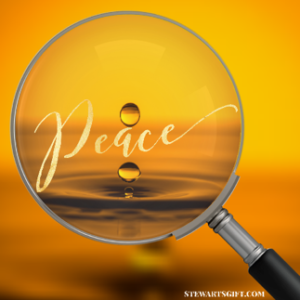 I want to open this blog with an exercise: Before you read any further, what is your definition of peace? Write it down and think about it. Make sure you are satisfied with how you have defined, experienced, and expect peace to look and feel in your life. How do you find or create peace in your life and relationships?
Now… let's continue!
"Peace I leave with you; my peace I give you. I do not give to you as the world gives. Do not let your hearts be troubled and do not be afraid." JOHN 14:27
While I've read this countless times in my life, today it struck me very differently. Have you ever felt that you sabotaged an opportunity for peace in your life even if life was not the ideal definition of peace? Maybe life was not perfect but yet it was turning toward a new direction and there you go creating chaos?
This scripture spoke to me today that God provides us peace but we are not recognizing it in the moment because it is not matching our personal worldly definition of peace. Or maybe there is a deep rooted belief that "this is too good to be true" which implies you are not deserving of God's blessings. When God moves, we are stirred. Is it possible that God's peace is stirring and maybe even uncomfortable to sit in because we are not recognizing it as peace? Stirring feels anxious, like we're waiting for the crash… but what if the crash wasn't God's plan or purpose at all?
As humans we wrestle with peace. We wrestle with the idea of experiencing true peace. We try meditation, yoga, reading the bible, we read about being mindful and centering our energy. We try self-help books about creating inner peace. Pinterest, Instagram, Psychology Today, all over the internet and social media are these remedies to finding peace. Or worse yet we pin to a board our perfect life that will bring us peace, joy, and harmony. Bad News: we live in a fallen world meaning peace is not perfect, in fact, peace is intertwined in dysfunctional trials of life.
"I have said these things to you, that in me you may have peace. In the world you will have tribulation. But take heart; I have overcome the world." JOHN 16:33 
Here we see that peace is not something we can pin to a virtual reality board. Peace is a relationship and foundation in God. Peace is knowing that God is bigger than the tribulation. Peace is knowing that you reside under His wing (Keep me as the apple of your eye; hide me in the shadow of your wings," Psalm 17:8). The concept of taking shelter is not something we usually equate with peace but rather protection from a storm. This scriptures makes me think about the peace in the eye of the hurricane. The storm is all around, it is visible and undeniably powerful, and yet, peace is found. While it may not be an ideal peace based on your definition of peace, it is peace still.
I want to pick back up from the beginning of this blog. Reread your definition of peace. Does it match the word of God? How is God challenging you to change your understanding and expectations of peace in the midst of tribulation? Here are a few scriptures to think on:
"You keep him in perfect peace whose mind is stayed on you,because he trusts in you." ISAIAH 26:3

"Blessed are the peacemakers, for they shall be called sons of God." MATTHEW 5:9

"If possible, so far as it depends on you, live peaceably with all." ROMANS 12:18
Here we see three scriptures where God gives us a call-to-action. We are to be intentional in seeking and creating peace both in our own life as well as in our interpersonal relationships. Are you waiting on someone else to be the creator of your peace? Throughout scripture God talks about peace, the reality of peace in a fallen world, and gives strong clues on where peace comes from (and by strong clues I mean God flat-out tells us that yoga, dream boards, self-help books, etc. are not the answer!).
"Do not think that I have come to bring peace to the earth. I have not come to bring peace, but a sword. For I have come to set a man against his father, and a daughter against her mother, and a daughter-in-law against her mother-in-law. And a person's enemies will be those of his own household." MATTHEW 10:34-36 
Well, there you have it. This idea of mindful peace down by a river just got flipped upside down! Thank you, God, for that gentle clue as to what peace may look like! Does this scripture sound more accurate? God isn't your fairy Godmother sprinkling fairy dust over you when you're unsettled.
 What if the unsettling is God?

What if your disruption in life is God?

What if the pain is God's sword of truth, justice, and freedom?

What if God is shaking your fictional peace to bring restoration with true peace?

What if God turns your life upside down through intimate relationships to bring distance from idols, a glance heavenward, and true peace through careful reevaluation of your focus?

What if peace is only experienced after destruction?
ENDING CHALLENGE: Think about a time of unsettling, destruction, or shaking of your foundation. Where was God in all of that? Was this a chance for peace to be established by God? How did you respond? How could you have responded differently?
As the body of Christ, let's challenge ourselves as a whole to begin recognizing God's peaceful provisions. Let's try to eliminate our own expectations and definitions to be more fully attuned to the peace that passes our own understanding.
So then let us pursue what makes for peace and for mutual upbuilding. ROMANS 14:19
God's ultimate plan is for you to be built up by him!
Trust him.

Train yourself to recognize God's often misunderstood peace.

Commit to his plan for peace.
"As the heavens are higher than the earth, so are my ways higher than your ways and my thoughts than your thoughts." ISAIAH 55:9
DISCLAIMER: THIS BLOG IS NOT TO MINIMIZE THE ROOT CAUSE FOR EXPERIENCING DISTRESS OR ANXIETY. THIS IS MERELY TO CAPTURE AN INSIGHT I BELIEVE GOD GAVE TO ME EARLY THIS MORNING.
---